Steel Doors & Windows
Standard Door Design

MetalForm Fire & Non-Fire Rated Doors :
Steel doors provide a higher level of fire protection when compared with other door materials such as Timber,UPVC, Aluminum or GRP. MetalForm Doors have been extensively tested to the American Standard for TestingMaterials (ASTM), under license by Underwriters Laboratories (UL). All our labeled fire door sets have been tested for fire endurance and hose stream testing in accordance with NFPA 252 and UL10b / 10c.



Note: Non-Fire Rated doors are manufactured in any design configuration according to customer requirements : Leafs can be manufactured as single sheets or hollow metal profiles .Frames can be angular, tubular, or hollow metal profile.
Our doors have been utilized in a wide & diverse range of projects, including :
Airports
Industrial / Manufacturing Plants
Utilities
Transportation
Education
Commercial / Office Buildings.
Sports / Entertainment Facilities
Shopping Malls
Hotels
Hospitals
Warehousing
Features:Standard Leaf Construction
Two skins of 1.2mm (18ga.) thick steel; cold rolled, galvanized or stainless.
44mm thick door leaf.
Doors are either insulated with medium-to-high density mineral Rockwool / Fiberglass (stiffened) or alternatively insulated by pre-expanded, small cell honeycomb core material, to suit classification.
1.5mm (16ga.) steel end channels projection welded to the top and bottom of the door.
Doors are mortised, reinforced, drilled and tapped for three template hinges.
On double doors, an astragal is folded into the leading edge of one leaf to ensure a totally sealed unit.
Standard Frame Construction
Manufactured from 1.5mm (16ga.) thick steel; cold rolled, galvanized or stainless.
Supplied in either knock down (wraparound profile) or fully welded smooth finish (single / double rabbit profile).
Frames are mortised, reinforced, drilled and tapped for hinges and strikes.
Frames are provided with four fixings per jamb, built-in adjustment and complete with cover caps.
Vision Panels :

MetalForm glazed vision panels are often used to let light into a room or for safety (i.e. allowing people using the door to be seen). The most popular vision panel styles which comply with UL specifications are available in MetalForm doors, although other designs can be accommodated when you select non-fire rayed doors.
The ratings shown here indicate the permissible area of exposed glass for each door leaf :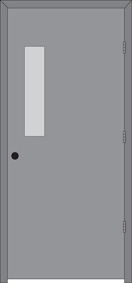 Fire Rating
Up to 3 hours rating
Up to 2 hours rating
Up to 3/4 hour rating
Permissible Glass Area
Up to 100 square inches exposed
Up to 100 square inches exposed
Up to 1296 square inches exposed
Louvers :
UL listed Fusible Link Louvers are fitted in our grilled sub-frames to offer adequate ventilation through our doors. Upon actuation of the link, the action bar rotates and locks the louver blades in the closed position to offer afire rating up to 1-1/2 Hours.
For full louver fire rated doors & according to UL specifications, we should manufacture non-fire rated door equipped with Automatic Fire Rated Curtain Wall.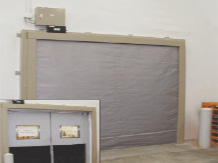 MetalForm Acoustic Doors:
Noise is an ever-present by-product of modern living, both in the external and internal environments, affecting our health and well-being. Even low level noise can have significant effects. In the commercial environment, poor sound reduction between manufacturing and office environments can significantly affect productivity in terms of interference with speech and telephone use and even staff morale. Noise is 'unwanted sound', so the solution to noise is to change the sound environment, principally by reducing the level of sound produced.Both sound absorption and sound insulation (the opposite of sound transmission) are used in controlling the propagation of noise within and through buildings.
Rating Sound Insulation:
Sound insulation performance can be described over a range of frequencies as the Sound Transmission Class, or STC. MetalForm has developed a range of acoustic doors providing a variety of sound reduction capabilities.MetalForm Acoustic Doors are manufactured from steel providing greater mass than other raw materials. Through extensive research our core materials and combinations have been developed to improve both insulation and stiffness.
| | | | |
| --- | --- | --- | --- |
| MetalForm Door | STC | Performance | Description |
| Series 38 | 30-38 | Average | Loud speech audible but not intelligible |
| Series 52 | 46-52 | Excellent | Loud speech just detectible |
| Series 45 | 39-45 | Good | Loud speech barely audible |
MetalForm Lead Lined Doors:

We supply Lead Lined Doors to prevent penetration of X-Ray radiation up to certain limits depend on the intensity of generated radiation from machines or equipment available in the X-Ray rooms.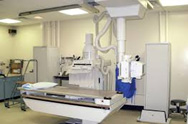 MetalForm Lead Lined Doors:

Strong welded construction Fire Rated & Non-Fire Access Doors / Panels for ceiling or wall application , Easy to install, fixed by screws (or expansion bolts) Applications :
Ceilings and walls of building.
Central air conditioning system.
Access ductwork or pipe work above the light fixtures, vents, firefighting pipeline, bathroom pipeline, etc.