Steel Gates & Rolling Shutters
Steel Gates
MetalForm Swinging Gates:
Our entrance gates ( Single & Double Leaf ) are available in a wide range of heights and sizes to match our extensive range of balustrade fencing, Railings & Concrete fences. Metalform provides swinging gates in different kinds of steel ; cold-rolled, galvanized & stainless steel grade 304 or 316. Finishes vary from painted to bright or satin polished.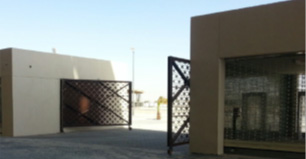 MetalForm Sliding Gates
Our Gates are supplied with leaves made of flush panels of insulated sheet metal ( or steel bars ), top tubular tracks, protective carters, counterweights, ( motorized & Manual override ) and finished with a primer coat or polyurethane colors, plus other accessories required for the correct functioning of the product. The field of application includes the closure of large openings and/or special usage conditions in the dimensions requested by the customer.
MetalForm Bi – Folding Gates (Doors)
Our Bi-Folding doors are a side-hung, fast acting, bi-folding door ideally suited for emergency service appliance bays and other industrial or commercial situations. Our doors can be manually or electrically operated regardless of size. In the event of power failure of for hand operated doors, manual operation is effortless – allowing access in as little as 2 seconds. No other door will give you this speed of operation and full security at all times.
MetalForm doors are available in different leaf configurations, with any combination of one, two or three leaves hinged to one or both jambs.
No bottom track required so leaving a clear threshold. Also our Bi-Folding doors can be provided with vision panels.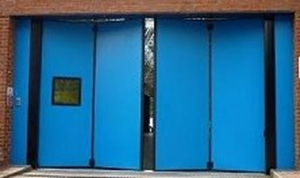 Rolling Shutters:
Our rolling shutters are provided exclusively by ROLLC covering a variety of building applications & models.

Curtain
Curtains are constructed of interlocking slats model RC97 FR2/3, curved or straight, 1-1.2mm. thick, ASTM A 366 cold rolled steel with galvanizing standard ASTM A 653 steel zinc coating 2-3 Hours fire rated shutter. Insulated model RIFA77 also available, with curtains equipped with a bottom bar consisting of two structural steel angles (75 mm. x 75 mm. x 8 mm.) of equal weight, one on each side, securely fastened to the bottom of the curtain for reinforcement to provide contact against the ridge when closed .
Barrel Shaft Assembly
Steel pipe barrel, size capable of carrying curtain load with maximum deflection of 0.01'' per ft. of door width.
Brackets
6mm thick brackets are recommended.
Guides
Fabricated with minimum 5mm. thick structural steel angles (ASTM A 123, Grade 85 zinc coating, hot-dip galvanized after fabrication). Top of inner and outer guide angles are flared outwards to form bell mouth for smooth entry of curtain into the guides.

Operation
GFA Elektromaten Motor, horsepower as recommended by manufacturer, 230/280, 3 phase service. Open drip-proof motors are provided, removable without affecting setting of limit switches; thermal overload protection; solenoid brake; planetary reduction gearing and rotary limit switches; transformer with 24v control secondary; and all integral electrical components prewired to terminal blocks. Automatic closure are activated by a fusible link [or a local smoke/fire detector or a central smoke/fire alarm system]. When automatic closure is activated, electric sensing edge and push button are inoperable. Doors are fail-safe and will close upon power failure.